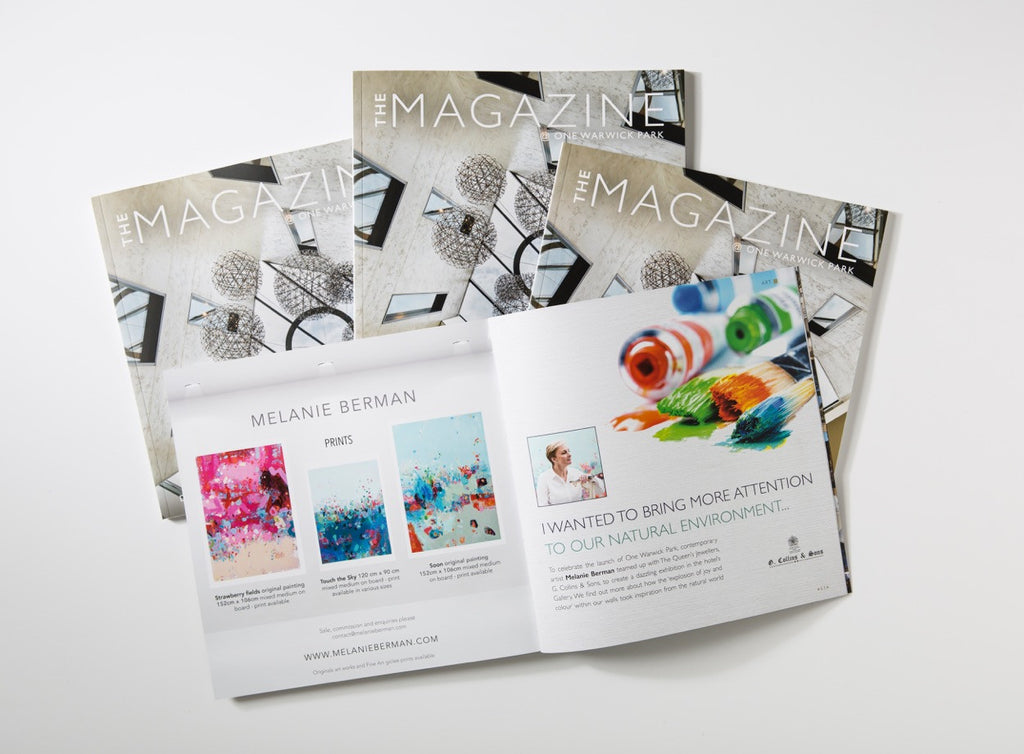 The opening party at One Warwick Park Hotel (OWP) was full glamorous people who had been lucky enough to be the first to experience the new luxury lifestyle hotel and art works. 
Upstairs subtle grey and beige tones mixed with the stone and marble surfaces contrasted beautifully with the rich dark wood panelled doors and chrome fittings. 
The lower ground floor holds the new 'Art Gallery'.  Amazingly it's deep under ground but the the architects have created soft lighting to highlight all the hidden treasures that are housed there creating a welcoming and atmospheric space.
As you head to the gallery space you are greeted by a vibrant painting by Melanie Berman. Go further and her abstract artworks have produced a blast of colour in the gallery. Inviting you into an explosion of colour, which reflects her passion for the natural environment. These large luxury paintings are full of intriguing marks and shapes. Berman wishes to raise the question, 'What does the natural environment mean to the individual, does it play an important part in modern society today? Berman brings graffiti into her landscape painting to add to the cross-over barriers of modern society into her work as a form of territory and freedom of expression.
The art work also explores the possibilities of the hidden treasure in ancient woods and coasts as in ones that are intrinsic and that are tangible to us.
Visit this summer 'The Gallery' at 'One Warwick Park Hotel' in Tunbridge Wells - it's a must see.
Continue reading