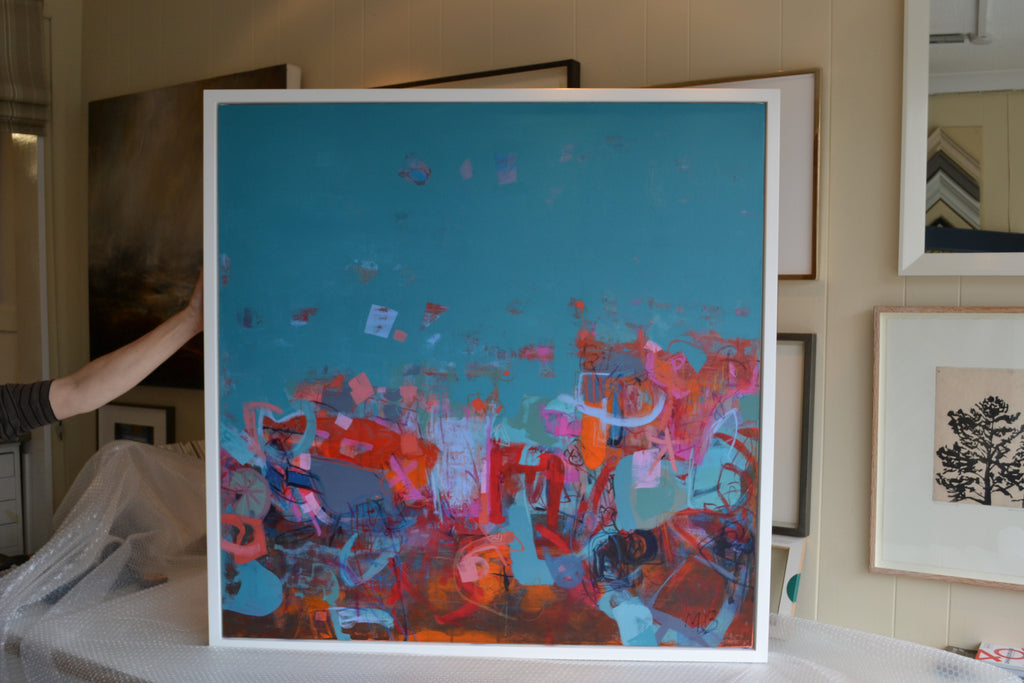 They're buzzing around and so I am!
It's been a great busy time with all the setting up in the new 'Gallery' space at One Warwick Park Hotel in Tunbridge Wells Kent. It's opening in July to visitors and guests. I can't wait as the whole Hotel looks fabulous and is the perfect setting for my paintings to be in. It all looks how I wanted it to look. There are seven large paintings 152cm x 106 cm and one smaller one 120cm x 90 cm in the main Gallery. 
There are seven Signed Limited Edition Fine Art Prints on display to choose from ,which are full of colour. The large original paintings burst onto the scene in rich colours tones. I hope you will come and visit the 'Gallery' in the hotel, grab a coffee and enjoy yourself. The art is for everyone.
The Affordable Art Fair is from 17 -20 June in Hampstead London,  two stunning paintings have just been framed and are heading their way to the show. I'm exhibiting  with the St Anne's Galleries. 'Forever' is shown at the framers in the photo. Its a bold and interesting piece which would suit a contemporary home setting. 
The Wing Gallery in Wadhurst is having a group show called 'Sensation" and I will be exhibition two framed art piece on paper. It's full of local and talents artist. A must if you fancy a trip to the countryside. Head towards Bateman's in Burwash it's on route.
Keep creating! 


Continue reading